VIEW OUR BARRIER SYSTEM VIDEO
VERSATILE | RELIABLE  | SMART | FAST PERFORMANCE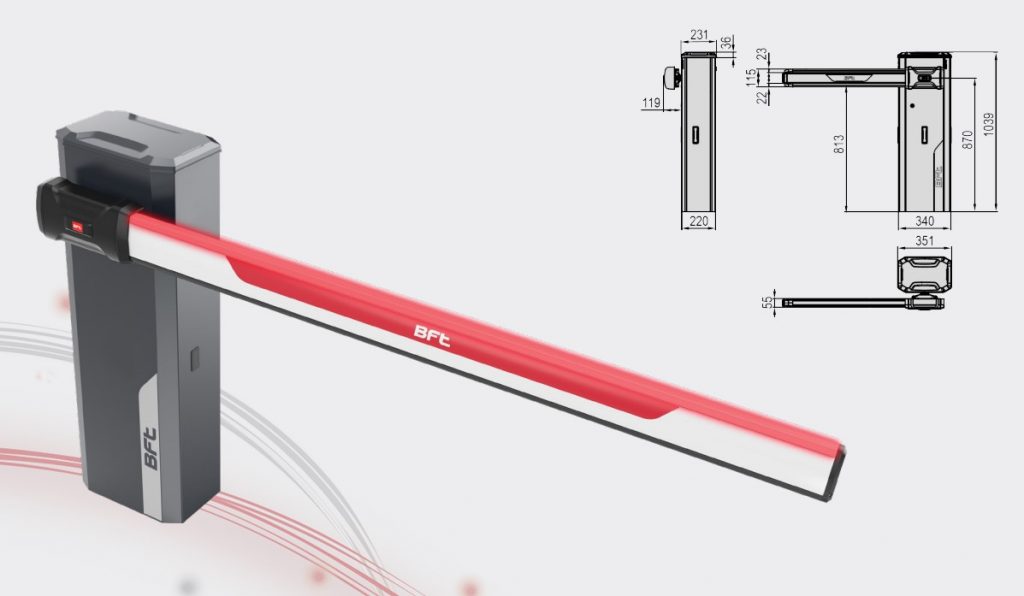 GIOTTO BT A ULTRA 36
Electromechanical barrier for intensive use
Range of barriers for intensive use, capable of controlling openings up to 6 metres wide. Fitted with 24 VDC motors, with an extensive range of accessories which make them the perfect choice for any setting. Same design as Maxima Ultra 36. MERAK control unit with U-Link for extremely fast and precise installations thanks to the scenario programming of the installation. With just a handful of selections of the display, it is possible to fully programme the control unit, saving time and ensuring the best results. Control unit located in the upper part of the barrier and protected by a solid aluminium casing for easy and safe collection, programming and maintenance operations. Compatible with ES bar and PS bar.

Opening
Frequency
Speed
Controller
Power Supp.
Gearbox
Limit switch
Slowdown
Locking
Unlocking
Env. cond.
Protection
ULTRA 36
max. 4m
5000 per day
2.2 sec (@3m)
MERAK
24v
lubricated
electromechanical
adjustable
mechanical
personal key
-20C to +55C
IP54
ULTRA 36 XL
max. 6m
2000 per day
4 sec (@3m)
MERAK
24v
lubricated
electromechanical
adjustable
mechanical
personal key
-20C to +55C
IP54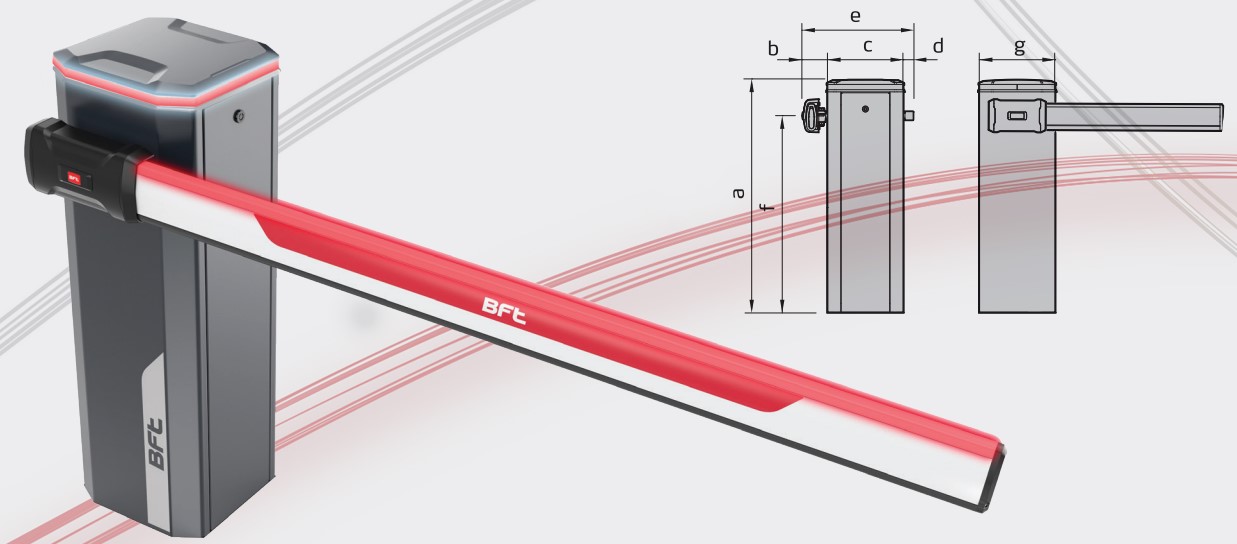 MAXIMA ULTRA 36
Automatic barrier for continuous use
A 230v AC electromechanical barrier equipped with an asynchronous three-phase motor and inverter, designed for very high frequency use. The Maxima Ultra 36 can manage clear drive through gaps from 2m to 6m. It is designed to operate in a wide range of environments such as large car parks, industrial sites and motorway tolls with very heavy traffic levels.
The barrier can be configured to manage the drive through gap using the top mounted control panel. The mechanical crankshaft delivers fluid movement for the boom whilst controlling the soft opening and closing. The same mechanism is able to provide anti-vandalism protection for the gear motor. The barrier is U-Link compatible for integration with Parking Management or Building Management systems.
The LED Light Crown mounted on the top of the cabinet is able to communicate diagnostic information with a multi-colour coded system providing maintenance and other vital information without the need to access the control panel.

Useful passage
Frequency
Speed
Controller
Motor
Gearbox
Power
Slowdown
Impact reaction
Lock
Release
Ambient conditions
Protection rating
MAXIMA ULTRA 36
2m to 6m
20000 (@3m), 5000 (@6m) per day
0.7 - 3.9 seconds
CSB XT
three-phase
oil bath
230 v
soft opening and closing
encoder
mechanical
inside
-40C to +60C
IP55